Models: Trailed Shredder - 4.5 and Trailed Shredder - 6.0
Use
ORUDICA stem shredder is an effective solution for crushing plant debris after harvesting.It cuts the stems of various agricultural crops, such as sunflower, maize, rape, vegetables, tobacco plantings and cotton.
In this way, plant residues are cut into small pieces to an uniform layer on the soil, which results in the acceleration of rotting processes and natural fertilization. This protects the soil from the destructive action of raindrops, reduces surface water runoff and increases the absorption of rainwater into the soil, prevents it from drying out and helps to preserve its organic matter.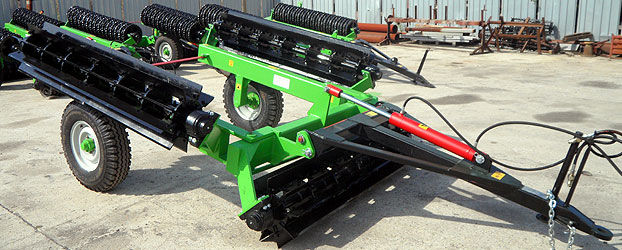 ORUDICA Stem Shredder has been designed with the ability to use the main frame of ORUDICA Hydraulic Roller. The working sections of the roller are replaced by the cutter blade sections of the Shredder. Thus, ORUDICA shredder achieves its best functional performance and is the most effective solution for significant reducing the cost for technical supplies.
Specifications
Nr

Parameters

Units

Model

Shredder – 4,5 m

Shredder – 6 m

1

Working width

m

4.5

6.0

2

Number of cutting units

Pcs.

1

1

3

Diameter of crushing sections

mm

450

450

4

Number of working knifes

Pcs.

9

9

5

Maximum processing speed

Km/h

15-20

15-20

6

Mass

kg

230

290

7

Recommended power of the towing unit

hp

90

120