MOUNTED TYPE TORSION DISK HARROW
Model MTDH 2.5, MTDH 3.0, MTDH 3.5 and MTDH 4.0
Use:
The Mounted Torsion Disk Harrow MTDH is designed for disk harrowing of fields or prior to sowing cultivation, for disk harrowing of fallow land with the purpose of lumps fragmentation and field evening, for disk harrowing of areas with the purpose of impoving the soil aeration and molehill removal at depths of up to 12 cm.
Disk harrow harbors great functional reliability and high productivity even in the presence of a large amount of weeds or other plant debris.

The double-row position of the working bodies ensures good soil cultivation and soil mixing, as well as maximum fragmentation of plant waste, and reduces blockage. The smoothing roller additionally contributes to the best soil condition for sowing.
It can be used on all types of soils except for the wet soils. It can also move on inclined terains up to 15%.
Disk harrow for fused surface cultivation is a mounted type machine and aggregates with a tractor over the three-point hitch system.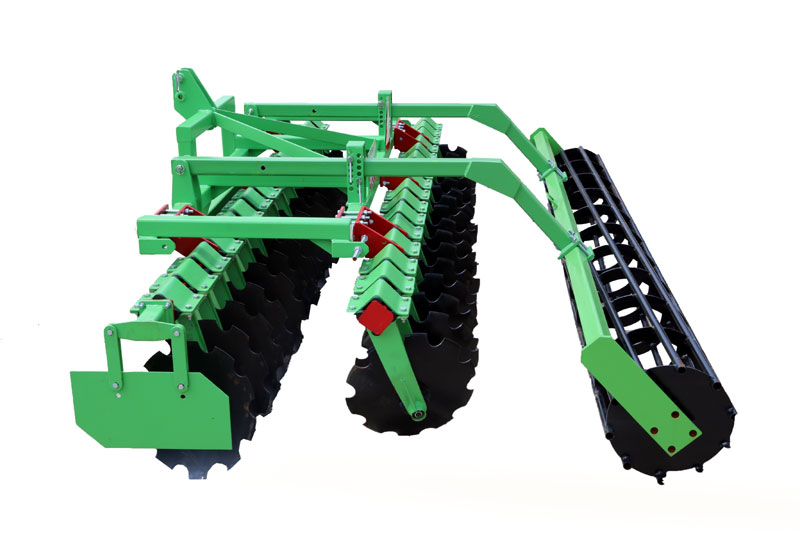 Specifications
Nr
Parameters
Units
model
1
model
MTDH-2.5
MTDH-3.0
MTDH-3.5
MTDH-4.0
2
Type
Mounted
3
Working width
m
2.5
3.0
3.5
4.0
4
Transport widthа
mm
3100*
3120*
3620*
4120*
5
Operating depth
сm
8 to 12
8 to 12
8 to 12
8 to 12
6
Transport height
mm
820
820
820
820
7
Length
mm
1530
1530
1530
1530
8
Mass
kg
1200
1600
1670
2000
9
Number of working bodies
pcs.
20
24
28
32
10
Diameter of working bodies
mm
560
560
560
560
11
Operating speed
кm/h
to 10
to 10
to 10
to 10
12
Transport speed
кm/h
to 25
to 25
to 25
to 25
13
Minimum working clearance
mm
660
660
660
660
14
Transport clearance
mm
300
300
300
300
15
Static stability
deg
over 35°
over 35°
over 35°
over 35°
16
Recommended power of the towing equipment
hp
80
100
120
150