Hydrant, above ground type ХН DN 80 PN10/16
І. Use

Fire hydrant is device for connecting pipe or hose to the water pipeline for fire extinguishing, washing, watering, etc.
The above ground hydrant serves as a stopping body. It is designed for water supply via two ports of the fire-, hydro-meliorative- or other water equipment for pressure up to PN 16 bar and maximum temperature Т=50°С.
Hydrants are automatically drained to protect agains water freezing.
ІІ. Design
Above ground fire hydrant meets the requirements of standardization documents.
Watter supply to the equipment is achieved by connecting hoses to the hose adaptors.
Water feed is possible from one or from both outlets.
Opening and closing is performed by a tommy bar.
In the closed position, tightness is accomplished by pressing a rubberized valve to the basic diameter.
Draining the remaining amount of water over the valve is done automatically through the drain hole - item (10).
Repair of the hydrant and replacement of damaged and worn components is performed throug the upper cover of its head - item (11).
ІІІ. Installation
Fire hydrant is mounted vertically with coupling exits in upper position.
ІV. User guide
> Above ground hydrant must be cleaned from preservation material before installation.
> When installing or dismantling the equipment, the pressure in the pipeline should be c losed.
> Opening the FH is performed by turning to the right (clockwise) about 11 turns to stoppage.
> Closing the FH is performed by turning to the left (counterclockwise) 11 turns to stoppage.
Nominal torque when closing – 35 N.m
Overpoise of:
maximun torque -100 N.m when opening and closing the hydrant,
maximum operating pressure-16 bar, and
maximum operating temperature - 50°С,
is not allowed.
> Hydrant uses soft seals. Therefore, in order to avoid damage and blockage, care must be taken to ensure that gravel and sand will not fall into the pipelines and hydrants during storage, installation and operation.
V. Technical data and characteristics
Nominal pressure - /EN 1333/- 16 bar
Nominal diameters -/EN ISO 6708/DN 80
Connecting flanges -/BDS EN 1092-2/
Connectors and caps - according to DIN 14318. Basic requirements - according to DIN 3222.
Painting: epoxy paint blue RAL 5015
Material of the main components: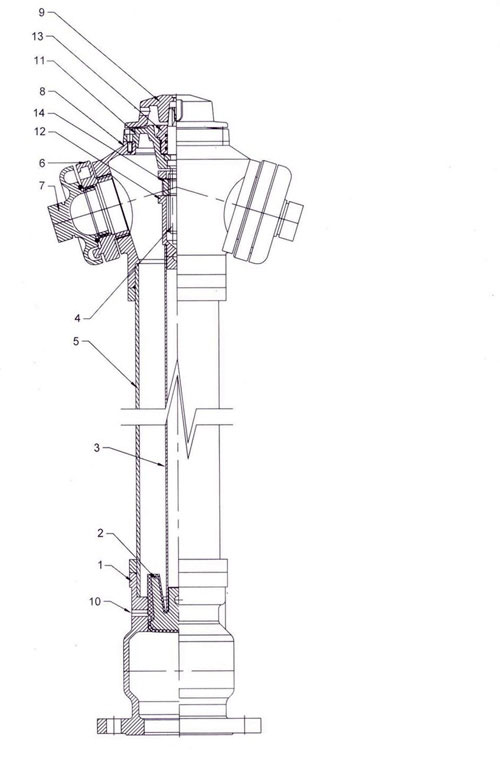 Part name

Material

Base(1),connector cover 75(7) hydrant head (8), tommy bar(9), head cover(11), cross bar(12), gland (13)

GJL 250

GG 25

Screw

X20Cr13

Connector(6)

Al2Mg5Si1

Closing valve (2)

EPDM

Rod plunger (3) , riser pipe (5)

S235JR hot dip galvanized

Nut (14)

Bronze

Sealing

EPDM

Fasteners

corrosion resistant
DIMENSIONS

INSTALLATION DEPTH

Н (mm)

HEIGHT

Н (mm)

MASS

kg

А

1250

1900

41

B

1500

2150

43

C

1800

2450

46
VІІ. Warranty Obligations
Manufacturer guarantees faultless operation of the product for 12 months after commissioning, but not more than 24 months from the date of manufacture, provided that the requirements for transport, storage, instalation and operation are met.